Download Newsletter PDF

>
March 2015 Newsletter
Volume 8, Issue 1
Beware of Inauthentic Solicitations for Fees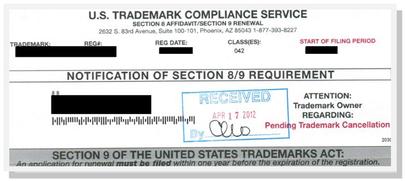 As a patent or trademark owner, beware of deceiving solicitations from unauthorized entities that look like official communications from the USPTO. These notices, described further below, should be ignored and no payment should be made to the soliciting entity. If an Andrus Attorney is your attorney of record at the USPTO for a patent or trademark matter, you can expect that all official communications regarding that matter will come through us. Otherwise, any official correspondence about your patent or trademark will be from the "United States Patent and Trademark Office" in Alexandria, VA, and if by e-mail, from the domain "@uspto.gov."
These misleading solicitations, which are often timed to coincide with actual registration or maintenance deadlines at the USPTO, typically appear to be an invoice demanding immediate payment and often cite repercussions such as patent or trademark cancellation. Solicitors employ publicly available information from the USPTO website to obtain your contact information and to create real-looking invoices listing application/registration numbers and relevant dates, such as filing or registration dates or submission deadlines. For example, our clients have reported receiving numerous different solicitations regarding their trademark registrations seemingly presenting invoices for (1) trademark monitoring services; (2) recording trademarks with U.S. Customs and Border Protection; (3) for "registering" trademarks in the company's private registry, and (4) legal services relating to trademark enforcement.
Though this type of activity is not new, these solicitations have become increasingly deceptive. Especially deceptive solicitors may use names that resemble the USPTO's name or that include terms like "United States," "U.S.," "Trademark," "Patent," "Registration," "Office," or "Agency"—examples include Trademark and Patent Office, Patent & Trademark Agency, Trademark Compliance Center, Trademark Registration and Monitoring Office , United States Trademark Registration Office, and TM-DB Register of Protected Trademarks. Adding to their official appearance, the solicitations may refer to other government agencies, such as the U.S. Customs and Border Protection, and/or cite sections of the U.S. Code.
The USPTO continually tracks this activity and issues updated warnings, which can be found at:
www.uspto.gov/trademarks-getting-started/non-uspto-solicitations
. If you receive one of these patent or trademark-related solicitations, you may want to file an on-line consumer complaint with the Federal Trade Commission (FTC) at
www.FTC.gov
. Further, the USPTO encourages recipients of misleading patent-related solicitations to report them by emailing the relevant information to
indepdentinventor@uspto.gov
or calling 1-866-767-3848. As always, feel free to contact your attorney at Andrus if you have questions about any communications you receive relating to a patent or trademark.
Andrus Opens Massachusetts Office
Andrus is proud to announce the opening of its Massachusetts Office, located in the Merrimac Mill Building at 44 Merrimac Street, Suite 207, Newburyport, MA 01950. Andrus also has offices in Milwaukee (Main Office) and Madison, Wisconsin.
Bill Adolfsen Joins Andrus
Andrus is proud to announce that on February 2, 2015, Attorney Bill Adolfsen joined the firm's Madison Office as an associate. Bill focuses his practice on domestic and international patent prosecution, strategic patent portfolio development, post-grant proceedings, and enforcement, and represents a wide range of universities, biotechnology, and pharmaceutical companies.
Andrus Attorneys Named to the 2014 Super Lawyers and Rising Stars Lists
We are pleased to announce that George Solveson and Aaron Olejniczak have been named to the 2014 Wisconsin Super Lawyers list and Peter Holsen has been named to the 2014 Wisconsin Rising Stars list.
Andrus Sponsors Judges Night
Andrus was proud to again be an event sponsor of the Milwaukee Bar Association's Judges Night event held at the Grain Exchange in Milwaukee on February 10, 2015. The popular event allows MBA members an opportunity to interact with members of the federal and state judiciary as well as with other bar members.
Aaron Olejniczak Winner of Client Choice 2015 Award
Aaron Olejniczak was one of a select group of attorneys in the U.S. to be included on Lexology's Client Choice 2015 list. The Client Choice awards recognize those partners around the world that stand apart for the excellent client service they provide. The criteria for the awards focus on the ability to add real value to clients' business above and beyond other players in the market.