September 2018 Newsleter
Vol 11, Issue 3
Introduction to Trade Dress Protection
Are you aware that features as diverse as the shape of a Coca Cola bottle, the colors and layout on a Hershey's syrup bottle, and the interior design of an Apple store are proprietary and protected from knock-offs? Such protection is provided under an arm of trademark law known as "trade dress." The following is a primer on trade dress: What is it? Why should I be concerned with it? How does it compare to more conventional trademarks? Can I combine it with design patent protection? Can it be registered?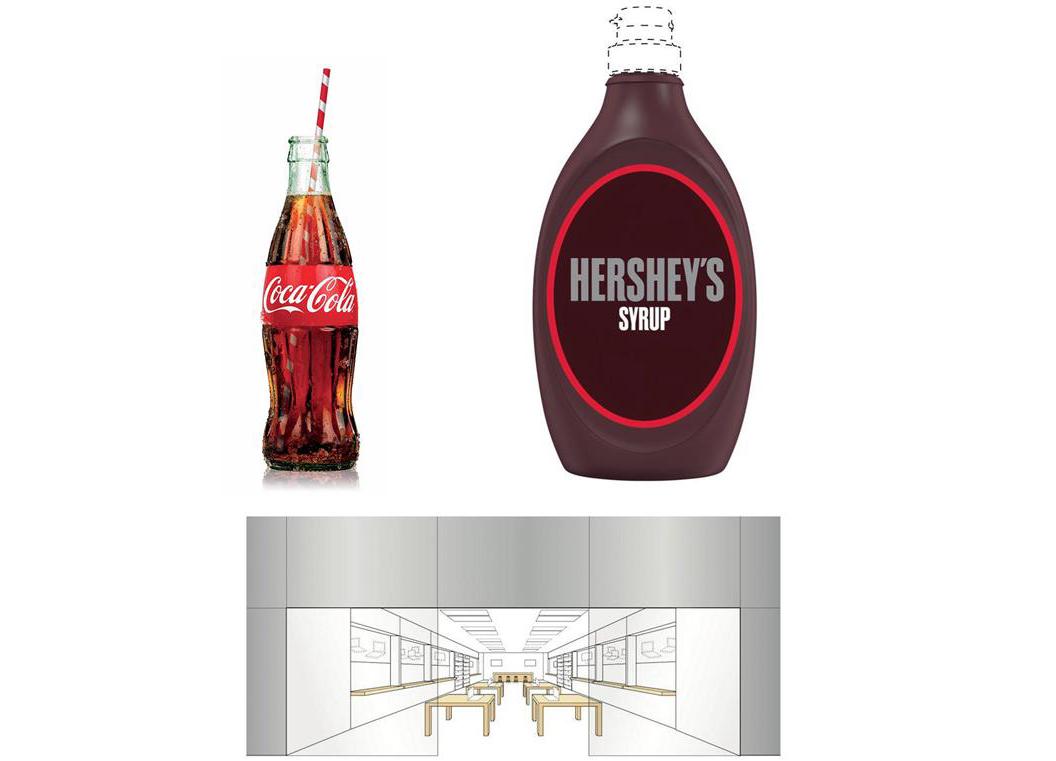 What is trade dress?
Trade dress is a type of source identifier for goods and/or services. One can have trade dress rights in the "total image and overall appearance" of a product or its packaging or even the "look and feel" of a business establishment, such as a retail store or restaurant.
Product design or product packaging trade dress may include the size, shape, color(s), texture, or graphics on the product or its packaging. When trade dress is in the look and feel of a business establishment, it might include design, layout, interior and exterior décor, color schemes, point-of-sale displays, signs and/or menus.
Why should I be concerned with trade dress?
Taking time to consider trade dress is important both to protect what might be your own trade dress and to ensure you do not infringe upon a third party's trade dress. If you have invested significant time, effort, and/or financial resources into brand recognition via product design/packaging or business establishment design/layout, you will likely want to ensure that third parties cannot trade off of your substantial efforts. On the flip side, if a third party has invested in recognition of its own trade dress, you will want to ensure you are not unknowingly infringing upon that third party's rights by selling similar goods or offering similar services using similar trade dress.
How does trade dress compare to more conventional trademarks?
Like a conventional trademark, trade dress acts as a source identifier, signaling to your customers that they can expect a certain quality of goods or services when they encounter your trade dress. Unlike conventional trademarks, trade dress does not constitute a single word, a short phrase, or a single logo. While product packaging or business establishment décor might include words, phrases, and logos, trade dress is the combination of each of these elements into a comprehensive "look and feel" of the product or business establishment. In other words, trade dress is more concerned with the overall "package" – and "package" here is used in a figurative sense – of the product or service than with one particular word, symbol, or device used in connection with the product or service.
Can I combine trade dress protection with design patent protection?
We recommend pairing trade dress with design patent protection where applicable in order to obtain differing terms and scopes of protection. In the United States, a design patent protects the new and ornamental design of a product for fifteen years. However, trade dress does not necessarily need to be "new" in a patent sense, and trade dress protection will last as long as the trade dress is used in commerce. While design patent infringement is determined based on whether an ordinary observer would consider the accused product and the patented design to be substantially the same, trade dress infringement is determined using the multi-factor likelihood of confusion test applied for more conventional trademarks. Because these infringement standards have different inquiries associated therewith, a comprehensive protection scheme will include both types of intellectual property rights.
Can trade dress be registered with the U.S. Patent and Trademark Office?
When you apply to register trade dress for goods or services with the USPTO, the Office separately considers two issues: functionality and distinctiveness. In order to be registered (and indeed, in order to be protectable in a court of law), trade dress must be both nonfunctional and distinctive.
Functionality
Functional matter (something that is "essential to the use or purpose of the article or that affects the cost or quality of the article") cannot be protected as a trademark. If trade dress is functional, evidence that the trade dress has acquired distinctiveness is irrelevant, and registration will be refused.
A determination of functionality involves consideration of the following factors: (1) the existence of a utility patent that discloses the utilitarian advantages of the trade dress; (2) advertising that touts the utilitarian advantages of the trade dress; (3) the availability of alternative designs; and (4) whether the design results from a simple or inexpensive method of manufacture.
One example of purported trade dress that was found to be functional is the quilted design of Quilted Northern toilet paper, which design is linked to "functional benefits" of toilet paper "such as absorbency, softness, and comfort."

Distinctiveness
Product design can never be inherently distinctive, but product packaging can. In close cases, when it is difficult to tell if the purported trade dress is product design or product packaging, the Office will require proof of acquired distinctiveness before registering the trade dress.
The Supreme Court noted in Wal-Mart Stores, Inc. v. Samara Bros. that product design serves purposes other than source identification, and that "[c]onsumers are aware… that, almost invariably, even the most unusual of product designs − such as a cocktail shaker shaped like a penguin − is intended not to identify the source, but to render the product itself more useful or appealing." Therefore, according to the Trademark Office, "Applicants face a heavy burden in establishing distinctiveness in an application to register product design."
In order to prove acquired distinctiveness, you may submit evidence to the Office related to the duration, extent, and nature of use of your trade dress; advertising expenditures; letters or statements from the trade and/or public; survey evidence, market research, and consumer reaction studies; evidence of intentional copying and any efforts (for example, cease and desist letters) taken to put an end to such copying; and/or any design patent applications related to your trade dress.
If product packaging is inherently distinctive, it may be registered as trade dress. The Office uses the test for determining inherent distinctiveness set forth in Seabrook Foods, Inc. v. Bar-Well Foods, i.e., whether the proposed trade dress is a common basic shape or design, unique or unusual in the field in question, a mere refinement of a commonly adopted and well-known form of ornamentation for a particular class of goods, and/or capable of creating a commercial impression distinct from any accompanying words.
Trade dress in the design and layout of a restaurant, retail store, or other business establishment can also be inherently distinctive, as determined by the above-noted Seabrook factors. Of course, if you cannot prove that your product packaging or business establishment "look and feel" is inherently distinctive, you can then submit evidence to prove acquired distinctiveness.
Conclusion

If you have any questions about whether trade dress rights may apply to your products or services, or whether a third party may have trade dress rights associated with their products or services, please do not hesitate to contact us.
Andrus Included in 2018 IAM Patent 1000 List
Andrus was once again included in the guide entitled IAM Patent 1000 - The World's Leading Patent Practitioners. The IAM Patent 1000 is a standalone publication that identifies individual and firm expertise in all major areas of patent law and practice. Through an extensive research process by a team of highly qualified analysts, the publication identifies the top patent practitioners and law firms in 40 of the world's most important jurisdictions and 20 U.S. states. In addition to firm-wide recognition, Joseph Kuborn, Aaron Olejniczak, Peter Holsen, Tambryn VanHeyningen and Ben Imhoff were featured individually, based on positive feedback from clients and associates.
Andrus Attorneys Selected for Inclusion in 2019 U.S. News and World Report Best Lawyers List
Andrus attorneys Ed Williams, Joe Kuborn, Aaron Olejniczak and George Solveson were selected by their peers for inclusion in The Best Lawyers in America 2019 and Andrus Intellectual Property Law was ranked as a "Tier 1" patent litigation law firm in the Milwaukee metropolitan area.
Andrus Sponsors MBA Golf Outing Benefiting the Milwaukee Justice Center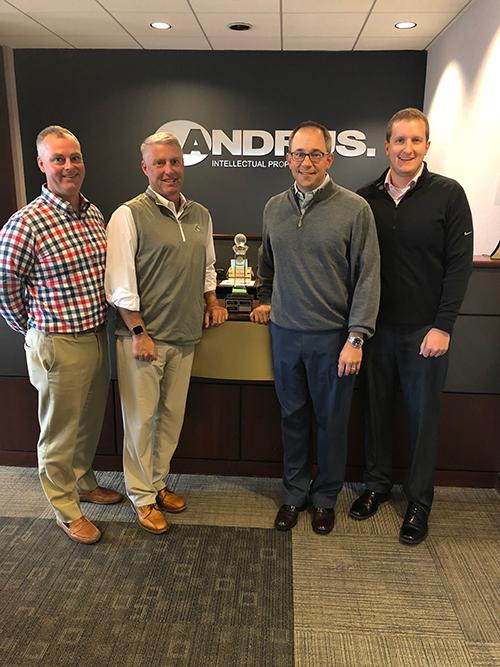 In August, Andrus Intellectual Property Law sponsored the Milwaukee Bar Association's golf outing benefiting The Milwaukee Justice Center (MJC), and the Andrus golf team (Aaron Olejniczak, Joe Kuborn, Peter Holsen and Kevin Spexarth) successfully defended their first place trophy in the golf tournament that day!